San Tan Charter School – New Football Coach
FOR IMMEDIATE RELEASE                                                             February 16, 2022
Contact:  Kristofer Sippel
CEO/Superintendent of Schools
San Tan Charter School Inc.
480-222-0811
San Tan Charter School Hires Chase Cartwright as its New Head Football Coach
Cartwright Brings a Wealth of Experience in Football to His New Role at San Tan
GILBERT, Arizona—Brandon Tauscher, Principal of San Tan Charter School's Power Campus, is pleased to announce that Chase Cartwright has been hired as the school's new head football coach.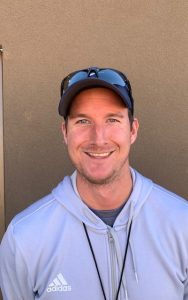 "Chase's vision and in-depth knowledge of the San Tan program and players set him apart among a solid group of applicants," Tauscher said, adding that he received over 20 referrals, recommendations and applications for the head football position.
"We feel that Chase's values, organizational structure and vision are greatly aligned to building the program at the school."
Cartwright brings plenty of experience and knowledge about football to his new role at San Tan Charter School. The local standout from Corona del Sol in Tempe went on to Northern Arizona University, where he started at quarterback for the Lumberjacks and was voted Most Inspirational Player of the Year by his peers.
After graduation, Cartwright spent time in the NFL, playing for the Chicago Bears and then in the Arena Football League for the Orlando Predators and Baltimore Brigade before serving as quarterbacks coach for Wagner College in New York.
"Since then, Chase has coached at the youth and high school levels in Arizona and has developed a successful athletics training organization in the valley, where he has worked and built relationships with many of our Roadrunner players," Tauscher said.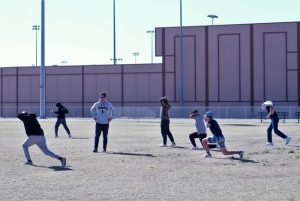 Cartwright said he is looking forward to making an impact in not only San Tan Charter School's football program, but also campus-wide, including in the physical education department.
"I have a passion for personal development and self-improvement. I've really enjoyed the relationships I have built so far with administration, faculty, coaches, students and the football players since I was hired," Cartwright said, adding that he is already implementing a number of key goals for his players, including going undefeated at home in 2022.
"Our team goals are simple. They start with representing yourself, your family, teammates, athletic department, administration, school and community with respect and class. Without those two things, none of our football goals will come to fruition. We also aim to obtain a cumulative team grade point average of 3.0 or above."
Cartwright said he has settled in quickly and well at San Tan, and is already "having a blast" instructing both in the weight room and in PE classes.
"I love working with not only the high school students, but the junior high students as well," he said.
"We have some tremendous kids at the junior high levels that are talented in all kinds of sports. It's been fun to see their competitive spirit in the PE activities The people here are what make this experience a great one."
***ADDITIONAL PHOTOS AVAILABLE UPON REQUEST***For more information about head football coach Chase Cartwright and/or to interview him and/or some of his players, please contact Kris Sippel at 480-222-0811.
About San Tan Charter School:
San Tan Charter School is a Kinder-12th grade public non-profit tuition free charter school with two campuses in the East Valley within minutes of each other. The Power campus is a Junior High/High School serving students in grades 7-12 and the Recker campus is an elementary school serving students K-6 including a private Montessori preschool and K-6 tuition free Montessori classrooms. The school uses a Love and Logic® approach to classroom management that is focused on building relationships and communicating with respect. The school focuses on "Education with a Purpose," which means the teachers encourage their students' love of learning, which enables them to face challenges and develop critical thinking skills. San Tan Charter School also offers a championship athletics experience 5th through 12th grade and PE daily K-6. San Tan Charter School is focused on maximizing each student's intellectual development with a Gifted program K-12, Honors/AP classes, Concurrent/Dual Enrollment classes and elective choices including career and technical education (CTE)-Culinary and Aviation as well as the opportunity for Juniors and Seniors to attend EVIT half day. For more information, please visit https://santancharterschool.com/