San Tan's Volleyball Teams Raise Awareness in Dig Pink Fundraiser
San Tan Charter School's Volleyball Teams Raise $1,331 for a Coach's Family Member Who is Battling Breast Cancer 
This is the Sixth Year that the School Has Organized the Dig Pink Breast Cancer Fundraiser
GILBERT, Arizona— The donations have been tallied, the money raised selling a variety of items has been counted, and a grand total of $1,331 has been given to an East Valley woman who is currently in treatment for breast cancer.
This generous donation was made possible by San Tan Charter School's annual Dig Pink breast cancer fundraiser.
This was the sixth year in a row that the school's volleyball teams organized and raised money for a local resident who is battling breast cancer.
For the entire month of October, the gym at San Tan Charter School was decorated with plenty of pink decorations including paper flowers and streamers. Head Varsity Volleyball Coach Nikki Revling and her players also dressed in pink for each game.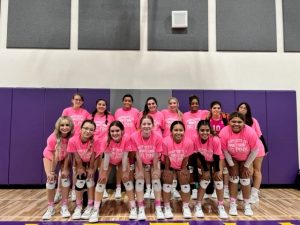 As Revling noted, this year the money was given to the stepmom of one of the school's volleyball coaches.
"We are honored to help her pay some of her medical bills with the money we raised," she said.
"Our families came together and made some beautiful raffle baskets that we sold along with T-shirts. In addition, half of our door charges and donations were all given to our coach's stepmom to help pay some of her medical bills."
Several other high schools joined San Tan Charter School in this year's Dig Pink fundraiser, Revling said, adding that Miami High School helped create awareness for the event, Santa Rita High School made pink T-shirts, Gilbert Classical wore pink socks to a game and Arete Prep hosted a Dig Pink game in October.
"Our Athletic Director Miyone Roanhorse led the way by getting our vision out to the other schools in advance so they could participate. It was such a fun time and great experience for us all," Revling said.
"We also got a huge amount of support from our Team Moms, Mrs. Oswald, Ms. Valenzuela, and Mrs. Gibson, who purchased all of the decorations and made the pink shirts. Without them we could not have the success we have."
Revling said she and her players look forward to hosting the Dig Pink breast cancer fundraiser each year, and knowing that they will be able to help a woman who is facing breast cancer.
"We are thrilled to have the ability of bringing awareness about breast cancer to our community. It has been such a fun experience watching everyone's faces light up when they come into our gym all decked out with pink everywhere," Revling said.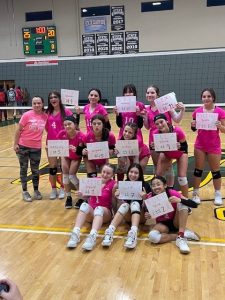 ***ADDITIONAL PHOTOS AVAILABLE UPON REQUEST***For more information about the annual Dig Pink fundraiser for Breast Cancer Awareness Month, please contact Kris Sippel at 480-222-0811.
About San Tan Charter School:
San Tan Charter School is a Kinder-12th grade public non-profit tuition free charter school with two campuses in the East Valley within minutes of each other. The Power campus is a Junior High/High School serving students in grades 7-12 and the Recker campus is an elementary school serving students K-6 including a private Montessori preschool and K-6 tuition free Montessori classrooms. The school uses a Love and Logic® approach to classroom management that is focused on building relationships and communicating with respect. The school focuses on "Education with a Purpose," which means the teachers encourage their students' love of learning, which enables them to face challenges and develop critical thinking skills. San Tan Charter School also offers a championship athletics experience 5th through 12th grade and PE daily K-6. San Tan Charter School is focused on maximizing each student's intellectual development with a Gifted program K-12, Honors/AP classes, Concurrent/Dual Enrollment classes and elective choices including career and technical education (CTE)-Culinary and Aviation as well as the opportunity for Juniors and Seniors to attend EVIT half day. For more information, please visit https://santancharterschool.com/