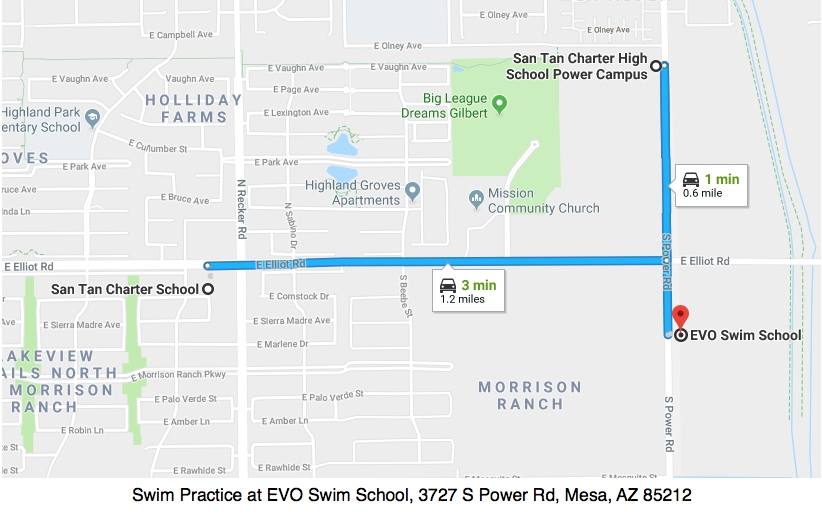 Starting a swimming program from scratch is a daunting task. Being successful in your first year with many swimmers new to competitive swimming is herculean. But this is exactly what occurred in 2017 under head coach Brooke Taylor. Unprecedented success and a Junior High State Title.
Now in our 3rd year, we continue our commitment to hard work and a strong work ethic while still having fun. This is what Roadrunners swimming is all about.
The Swim team practices at EVO Swim School off of Power Rd. and Elliot Rd. EVO is 1 minute from our Power campus and 3 minutes from our Recker campus. Evo Swim School, 3727 S. Power Rd. Mesa, AZ 85212
Brooke Taylor
Head Swim Coach
This will be Coach Taylor's first year leading our Lady Roadrunners, but she is no stranger to Roadrunner Basketball, as this will be her fourth season coaching with the Girls Basketball team. Throughout her sports career, she has participated in swim, volleyball, and softball, which have all taught her many things about teamwork that she now applies to her everyday life. Creating teamwork and building relationships with others is a huge passion for Coach Taylor and she can't wait to inspire this love of working together while having fun learning and playing the sport of basketball!
Coach Taylor is a proud Arizona native who began working at San Tan Charter School as a classroom assistant in 2009. In 2011 she took a leave to attend college at the University of Oregon. graduating with a Bachelor's in Psychology, Mrs. Taylor is one of our school counselors and teaches Art at the Secondary School level.  Let's Go Lady Roadrunners!
Amanda Errington
Junior High Assistant Swim Coach
Amber Kovach
High School Assistant Swim Coach
Join our award winning Junior High Swim team. If the first year was any indication, a tradition of success is on the horizon.
Join our new High School Swim team. If the first year was any indication, a tradition of success is on the horizon.