San Tan Charter School understands the value and benefits of physical exercise across the academic day. Within our Elementary program, students have P.E. every day. Within our Junior High and High School, P.E. becomes an elective course.
San Tan Charter School utilizes the Dynamic Physical Education program developed by Robert Pangrazzi from Arizona State. It is one of the most utilized curriculums in schools today.  This program was selected to provide a comprehensive curriculum, which emphasizes fitness and healthy lifestyles.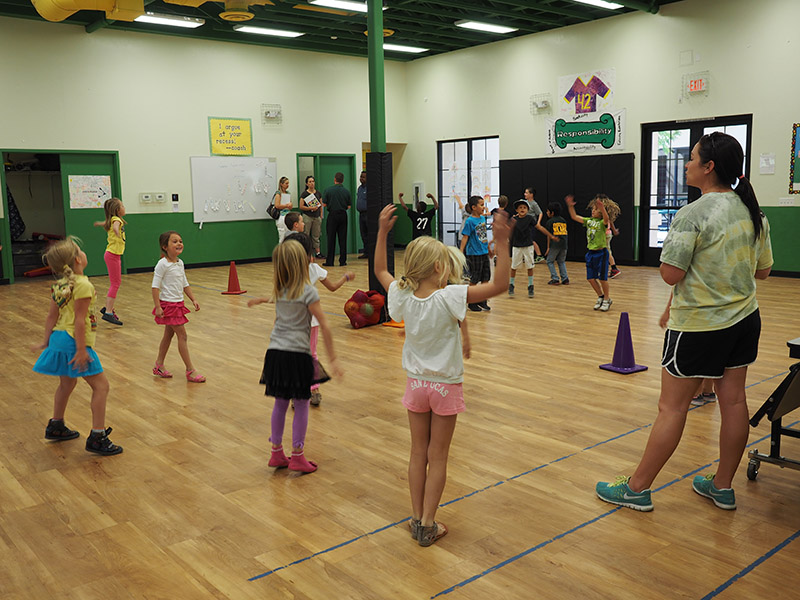 Physical Education – This class incorporates some of the many ways to stay active and healthy. Team sports such as baseball, football, soccer, volleyball, badminton, and more are incorporated. Strength training, flexibility, and cardiovascular improvement are also emphasized. Quarterly Fitness Assessments are administered to show the yearly progress.
4 Foundation Skills of Primary Physical Education
1. Movement Concepts and Themes
Space Awareness
Direction
Level
Pathways
Planes
2. Motor Skills
-Locomotor-
Walking
Hopping
Jumping
Sliding
Running
Leaping
Skipping
Galloping
-Non Locomotor-
Bends
Turning
Balancing
Pushing
Twisting
Rocking
Stretching
3. Body Management Skills
Strength
Balance
Agility
Flexibility
Coordination
Cardiovascular endurance
4. Manipulative Skills
-Locomotor-
Striking
Throwing
Kicking
Dribbling
Volleying
Rolling
Trapping
Pulling
Standard 1 – The physically literate individual demonstrates competency in a variety of motor skills and movement patterns.
Standard 2 – The physically literate individual applies knowledge of concepts, principles, strategies and tactics related to movement and performance.
Standard 3 – The physically literate individual demonstrates the knowledge and skills to achieve and maintain a health-enhancing level of physical activity and fitness.
Standard 4 – The physically literate individual exhibits responsible personal and social behavior that respects self and others.
Standard 5 – The physically literate individual recognizes the value of physical activity for health, enjoyment, challenge, self -expression and/or social interaction.